Gallstones – what are they?
The Cleveland Clinic explains that the gallbladder is a small, sac-like organ that sits under the liver on the right side of your abdomen (belly). The gallbladder stores a greenish fluid called bile. Bile is made and released by the liver and then sent to the small intestine, where it helps the body break down and absorb food. Bile moves through a network of tube-like structures called bile ducts.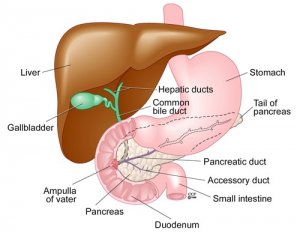 Gallstones are small stones that form in the gallbladder. Usually, they consist of cholesterol.  According to HSE data, if you have gallstones, in the majority of cases, you won't need treatment and you won't have any symptoms.
The risk of gallstones is higher if you are:
Overweight
Female (especially if you have children)
Older than 40
When you have symptoms caused by gallstones, this is called gallstone disease or cholelithiasis.  The HSE advises that treatment is necessary if gallstones are causing:
symptoms – such as abdominal pain
complications – such as jaundice or acute pancreatitis
A HIQA report explains that the symptoms arising from sudden and complete obstruction of the cystic duct or the common bile duct by a stone is called 'biliary colic'.
In some cases, you may need surgery to remove the gallbladder. This is often known as a laparoscopic cholecystectomy and the HSE note that there is generally a low risk of complications.  The Cleveland Clinic explains that the benefits of laparoscopic cholecystectomy (ie, keyhole surgery) over open surgery include less pain, less time in the hospital and quicker recovery. They state it is now considered the "gold standard" for surgical treatment of gallbladder disease.
A HIQA report notes that biliary calculi (that is, gallstones) are one of the most common surgical problems in the western world. Gallstone disease is the most common abdominal condition for which patients are admitted to hospital in developed countries. This report notes that gallstones are at least twice as common in women and that the increased risk in females begins at puberty and is increased further with the use of the oral contraceptive pill.  The report also notes that patients with a body mass index (BMI) greater than 40 Kg/m2 have been shown to have a risk of having gallstones eight times higher than those with a lower BMI.
If you would like to read further information on gallstones, click here.