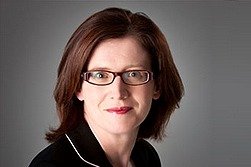 Helen Coughlan qualified as a Solicitor in 2004. She studied law in University College Cork and obtained a first class honours BCL degree in 1999. She trained with Matheson Ormsby Prentice, Solicitors, in Dublin.
Her specialties include family law, medical negligence, employment law, and personal injury litigation. Helen is an experienced family lawyer and is a qualified family mediator. She is a trained collaborative law practitioner and is a founder member of the Kildare West Wicklow Collaborative Solicitors Group. She regularly appears in the Circuit and High Court and also in the Court of Appeal.
Helen is Chair of the Family and Child Law Committee of the Law Society. She is the President of the Kildare Solicitors Bar Association and an elected member of the Council of the Law Society. She is a Chairperson of Mental Health Tribunals for the Mental Health Commission. She lives in Newbridge and is involved in various local voluntary bodies.
"Thank you so much for your support in reaching this settlement. From my reluctant and emotional first day that I met with you in Newbridge 3 and a half years ago I knew I was in safe hands. I wasn't wrong! Your guidance through the whole process has been a testament to your professional skills, expertise and unending knowledge. You left no stone unturned and had my trust throughout. You showed respect and empathy and for this we can't thank you enough. 

I don't think I fully understood the role of the solicitor until now and I'm awe. I have no doubt you get a lot of joy out of advocating for others. 

Thanks for everything you have done for us. It's been life changing."

E.N., Medical Negligence Client